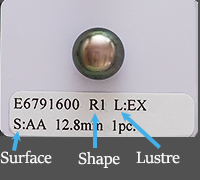 Under each pearl is a label which shows the grading for the pearl – the pearl's shape, lustre, surface marks and size. Our grading system has both a grade for lustre and another for the marks (spots) on the surface of the pearl. This provides more information making it easier and quicker for our customers to select the pearls they require.
Shape
R1 Round
R2 Near Round
R3 Semi Round
Dr1 Smooth drop shape
Dr2 Drop with knob on top
Bu Button
Cir Circle (rings around pearl)
BQ Baroque – no shape
Lustre
EX Excellent
AAA Very Good
AA Good
A Fair
-A Poor
Surface
AAA One or no spot.

AA Spots on 1/3rd or less of the pearl's surface. When set the face of the pearl is clean.

A Spots on more than 1/3rd of the pearl's surface. When set spots will be visible.